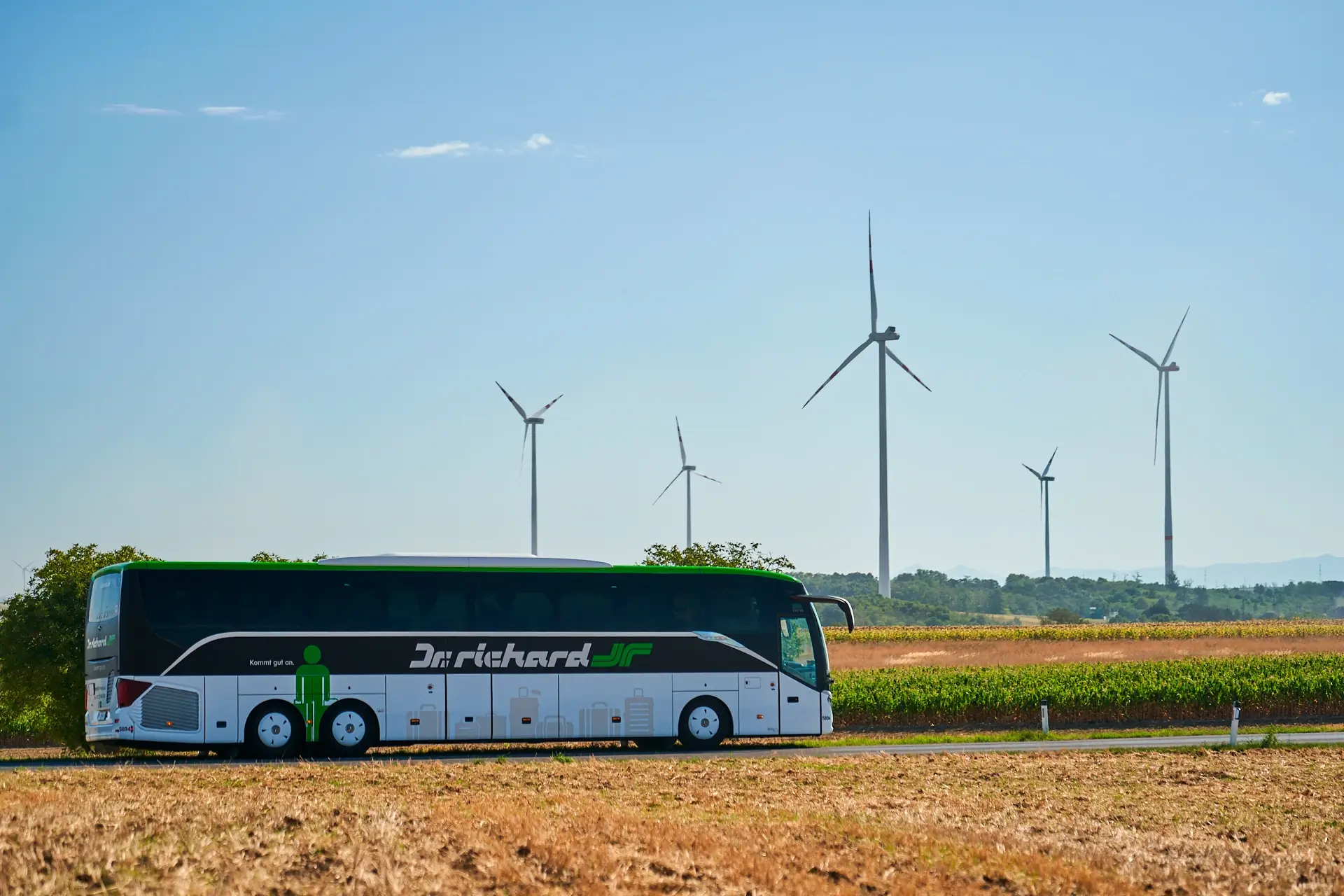 Environment and sustainability
The bus is one of the cleanest and most climate-neutral means of transport. When you travel with Dr. Richard, you are protecting the environment!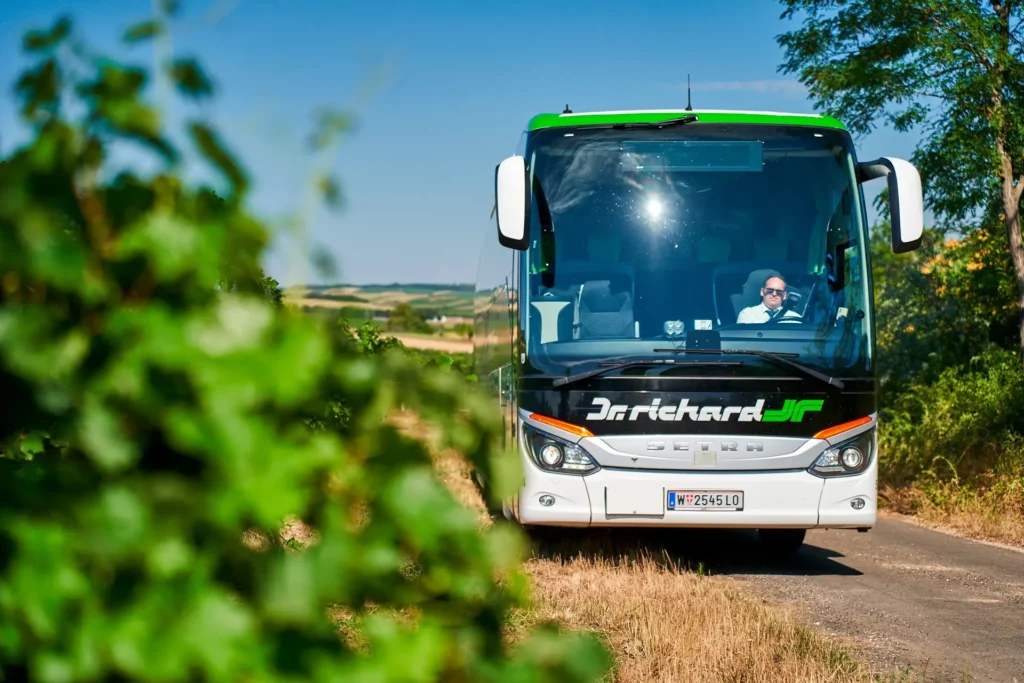 Dr. Richard – a green company
It's not just the logo of the Dr. Richard Group that's green, it's also the credo of our traditional family business. Environmental protection plays a major role in the company's efforts. Our first electric buses are being used in regular service. The number of emission-free vehicles is set to be massively expanded over the coming years. Dr. Richard also relies on electric mobility for its newly acquired company cars. All our coaches meet the high ecological requirements of the "EURO 6 standard". Our drivers are continuously trained to drive in the most fuel-saving way. And finally, the Dr. Richard bus fleet is well maintained and always state-of-the-art. Dr. Richard buses are therefore among the most ecological buses to operate in Europe!
Buses are among the most environmentally friendly means of transport
Compared to most other means of transport, buses are cleaner and more climate-friendly. Above all, they have an edge on private transport, since a bus can transport disproportionately more passengers. The evaluation by the Environment Agency Austria illustrates the good balance.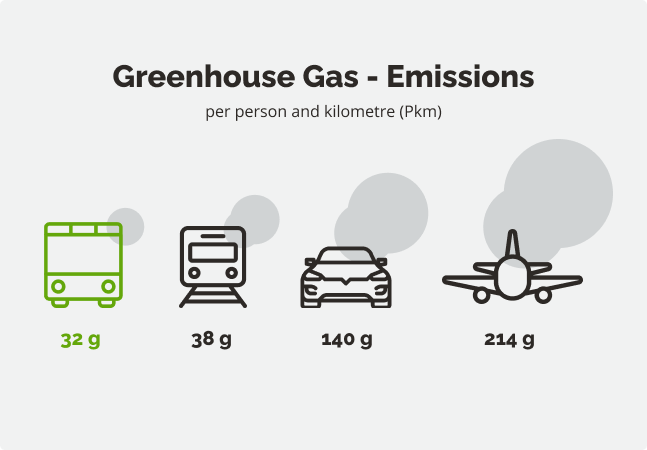 Source: Umweltbundesamt 2016
Environmentally-friendly public and long-distance buses
Green drive systems
In collaboration with experts, we are ceaselessly working on the future of public transport: Within the framework of test operations (practical trials with the latest e-bus models), we are gaining important experience for the operational use of modern, climate-friendly drive technologies. Battery-powered e-buses have been tested in the Dr. Richard Group since 2017. The test operation of a hydrogen-powered fuel cell bus was successfully implemented in 2020. This is how we are preparing for the future use of emission-free buses in regular operation. The Dr. Richard Group is also working on a project to set up a hydrogen-fueling station for buses. By passing on our experience to vehicle manufacturers, we, as bus operators, are able to support the development of alternative drive systems.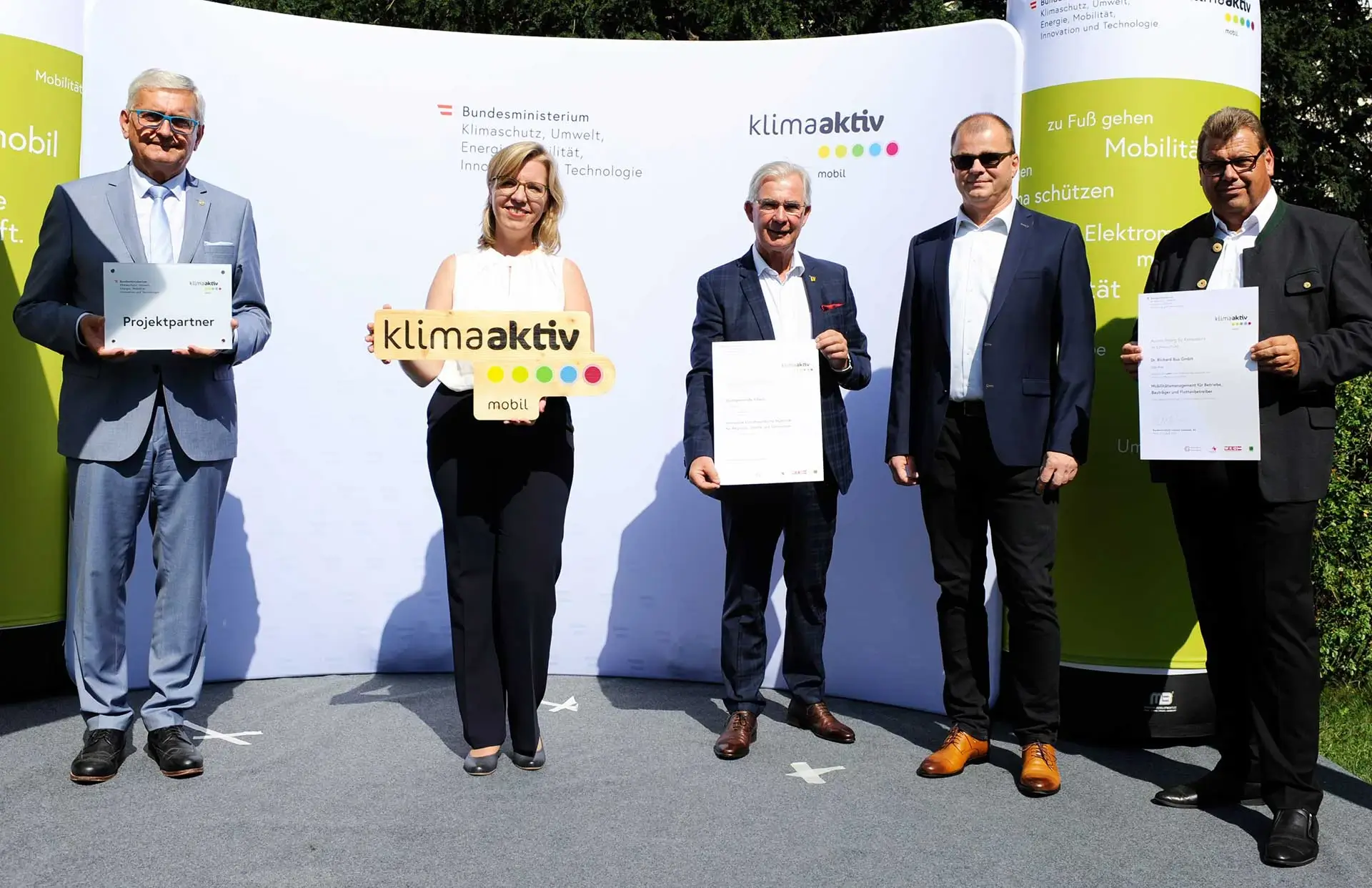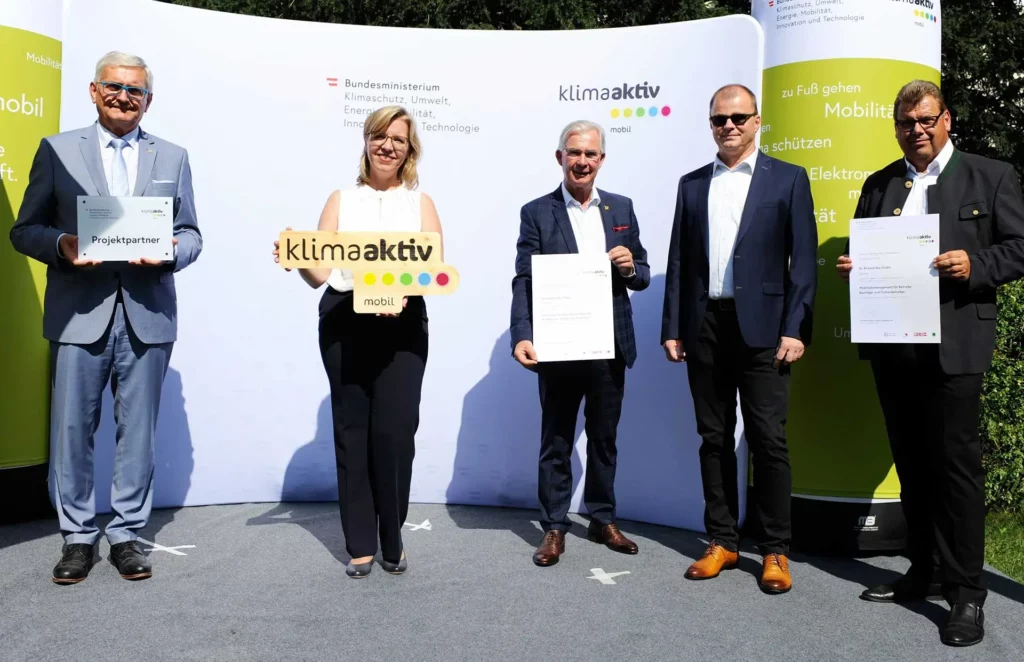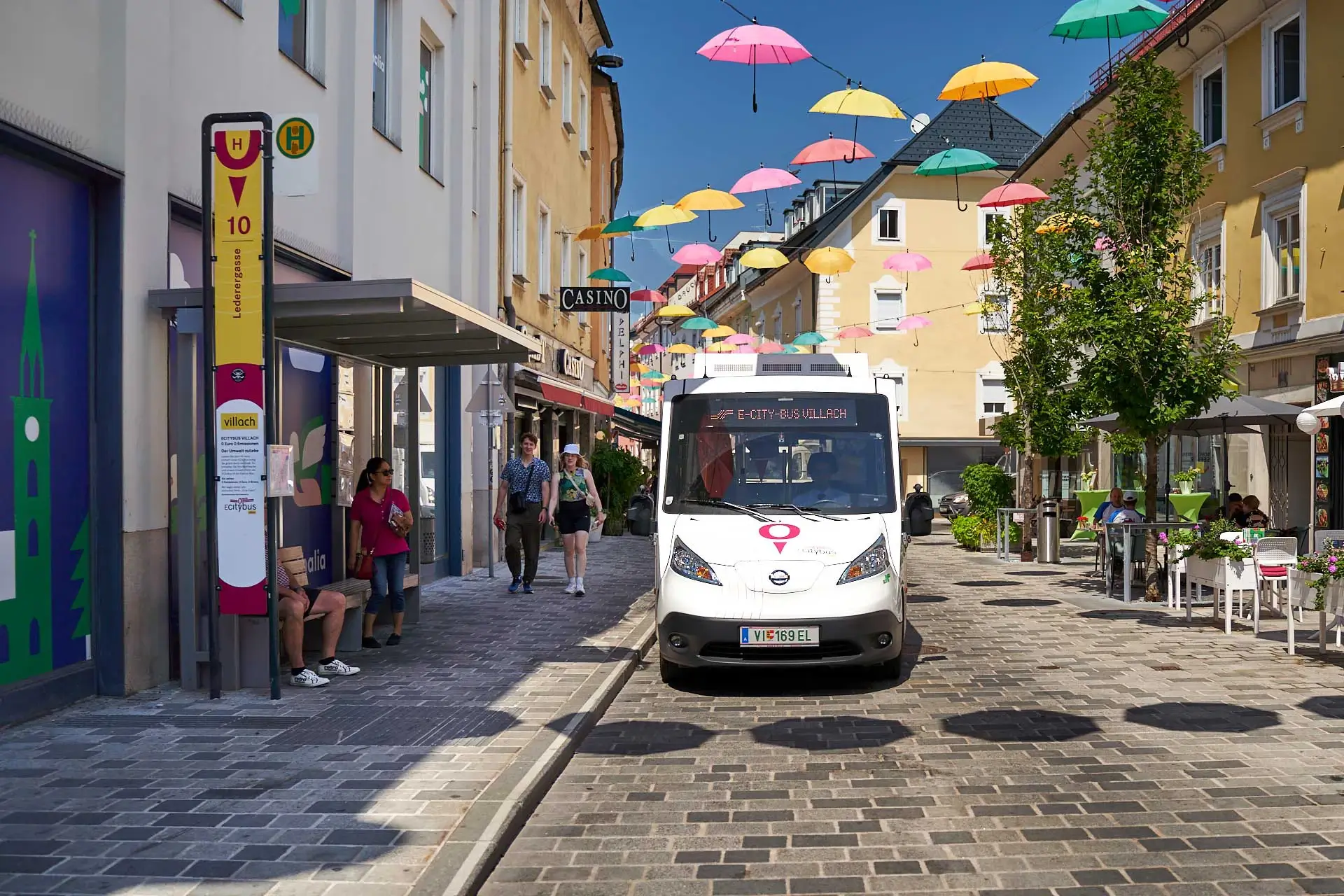 Award in Carinthia
Together with the municipality of Villach, Dr. Richard Carinthia has relaunched the Citybus Villach. From 2020 to 2022, this city bus route had been operated with electric buses that could accommodate 33 passengers, were fitted with ramps for wheelchair users and people with walking disabilities and was available to passengers free of charge. For this pioneering project, we have been awarded the status of 'klimaaktiv mobil' project partner together with the municipality of Villach.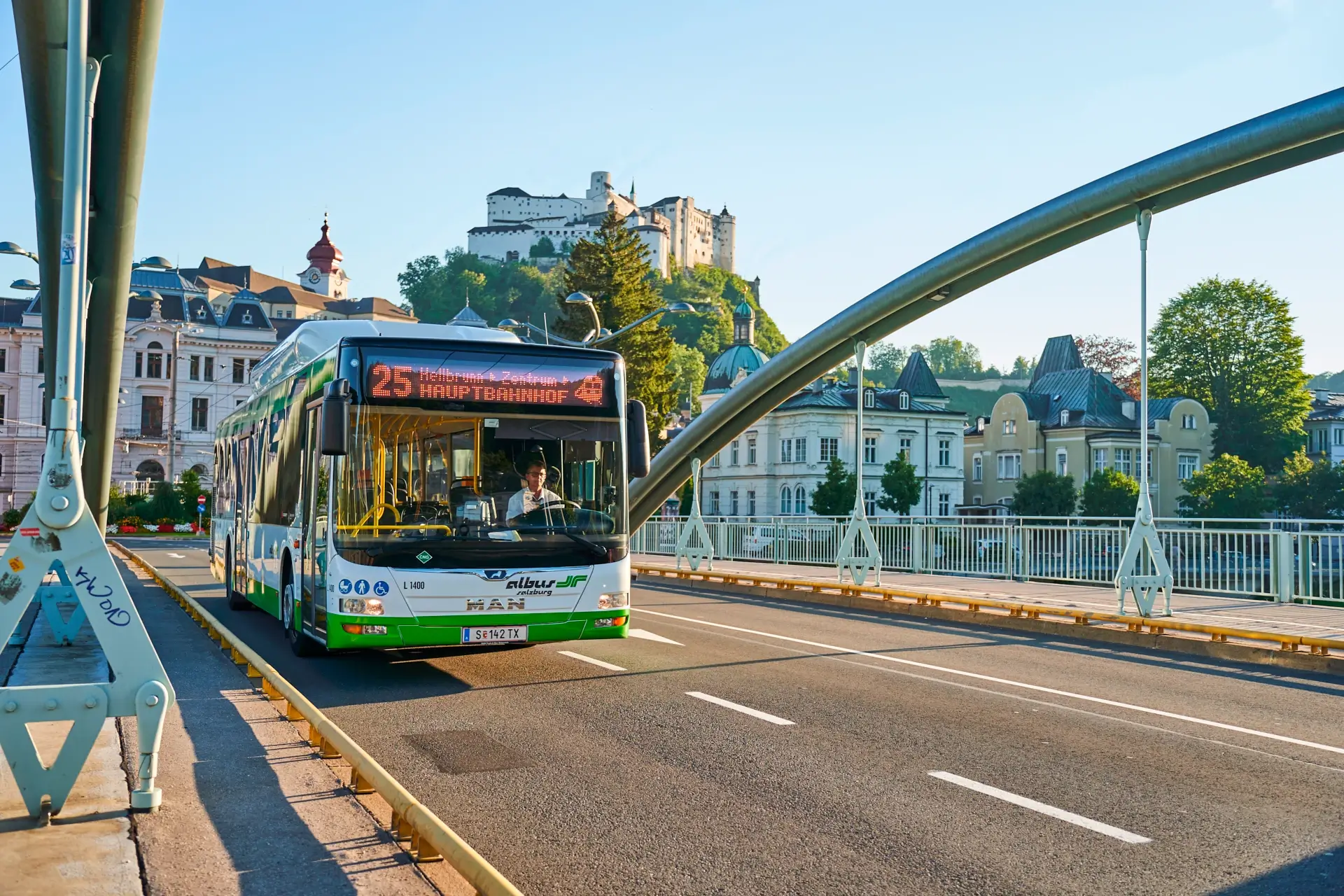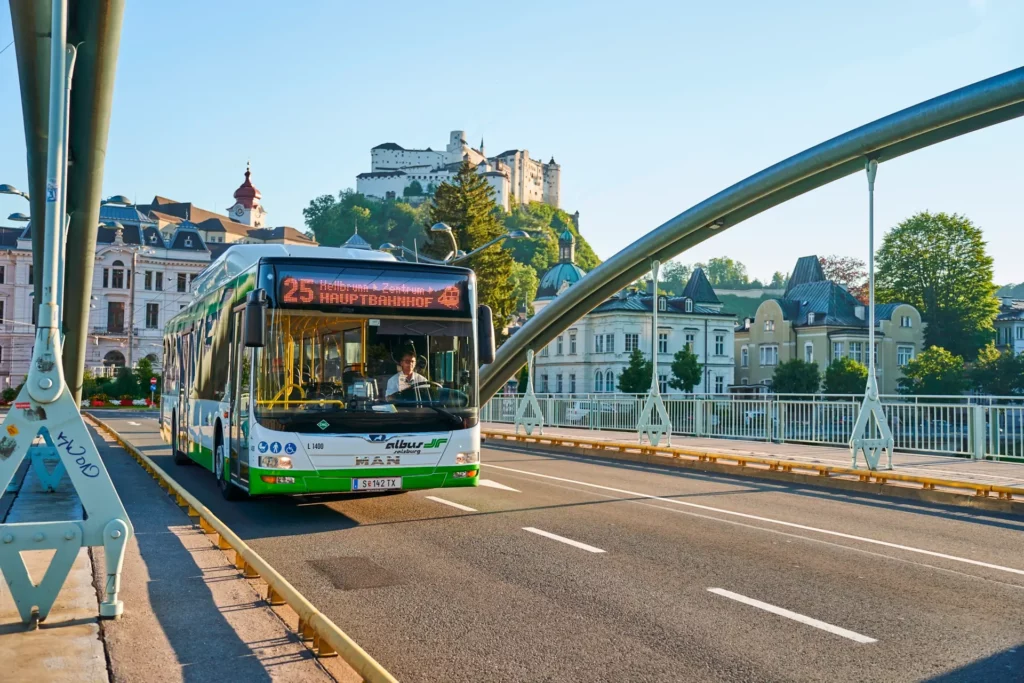 CNG buses in Salzburg
The public bus fleet in the city of Salzburg already consists of 60% biogas (CNG) buses. The gas used for this purpose is considered CO2 neutral and is therefore deemed very environmentally friendly. Compared to conventional diesel fuels, they save a considerable amount of greenhouse gases. CO2-neutral biogas from meadow grass is used as fuel for these public bus routes. It is produced by Salzburg AG in Eugendorf, a community in the north of Salzburg. Dr. Richard and its local subsidiary Albus Salzburg are working at full speed to replace the other buses with biogas or electric drive soon.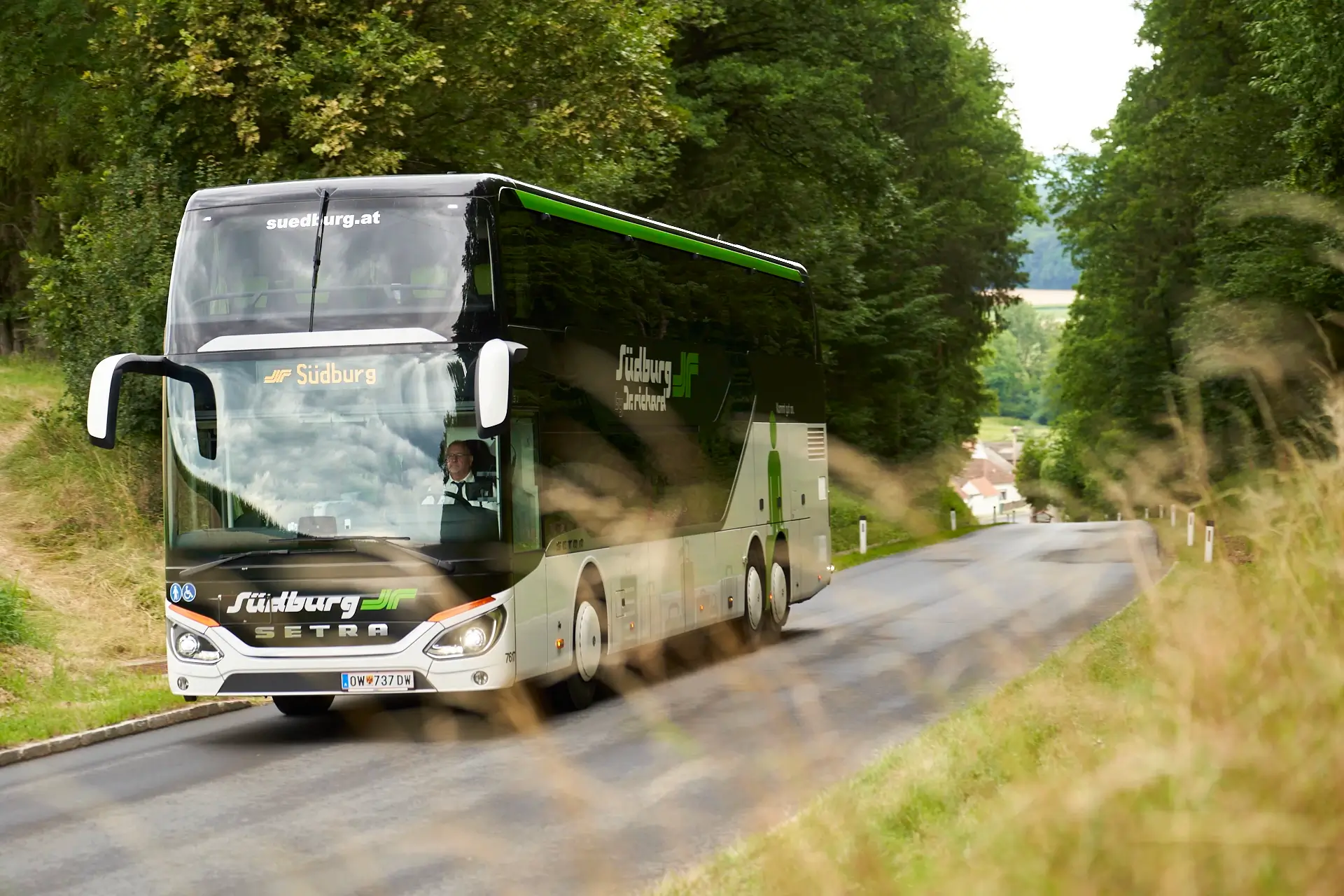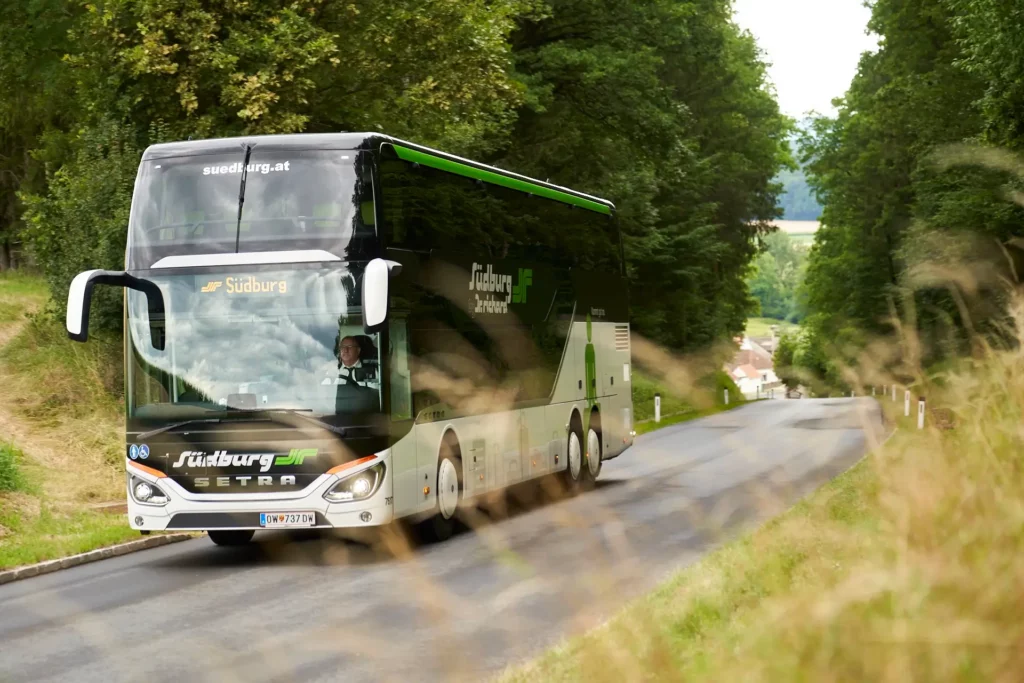 G1/B01: Our "green parade route"
We justly call the G1/B01 route (Güssing – Oberwart – Vienna) our "green parade route": With 470,000 passenger journeys per year and an average distance of 130 kilometers per trip, the G1/B01 route is the most important commuter connection between southern Burgenland and Vienna. Since our passengers are not using their cars, more than 4,000 tons of CO2 are saved annually.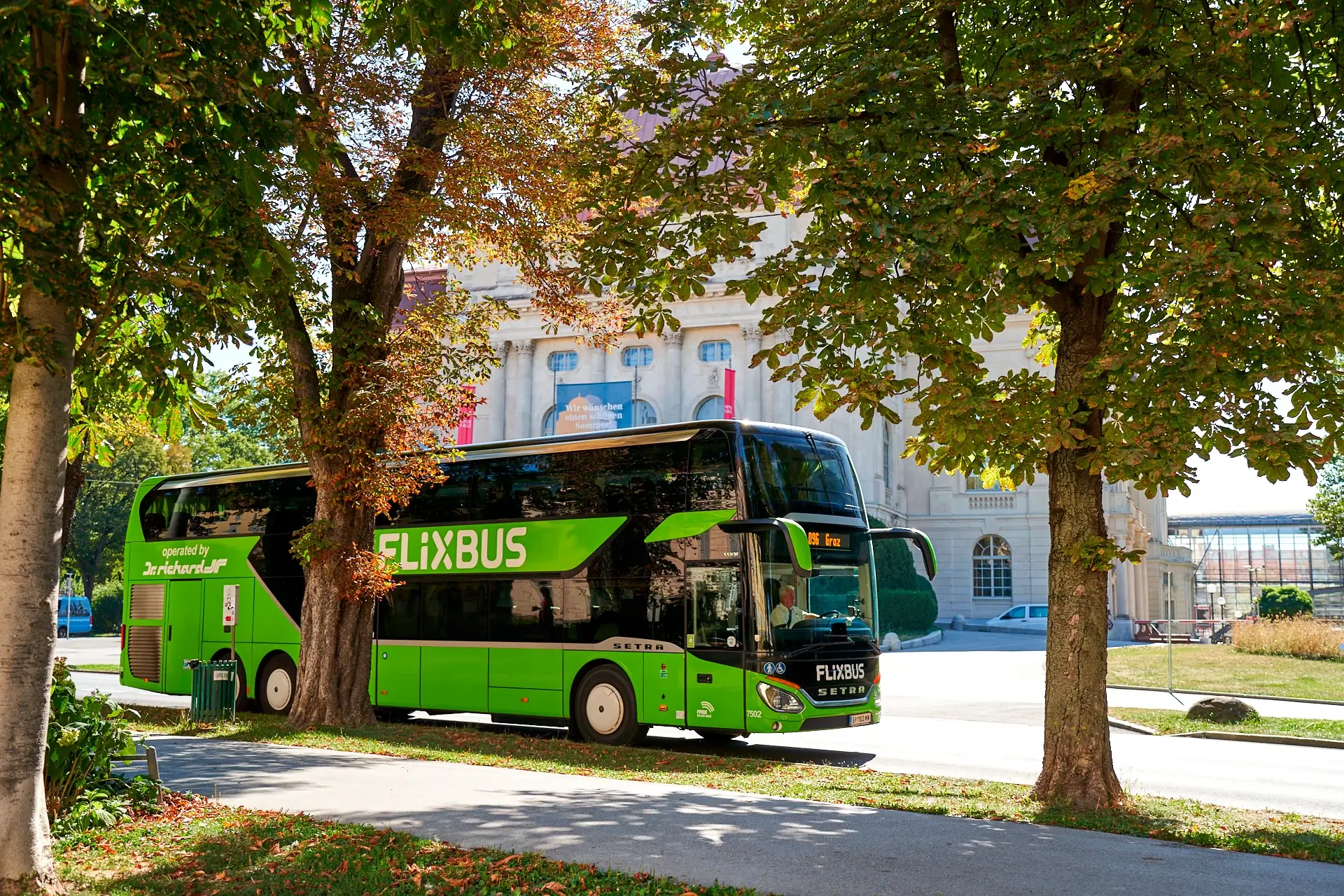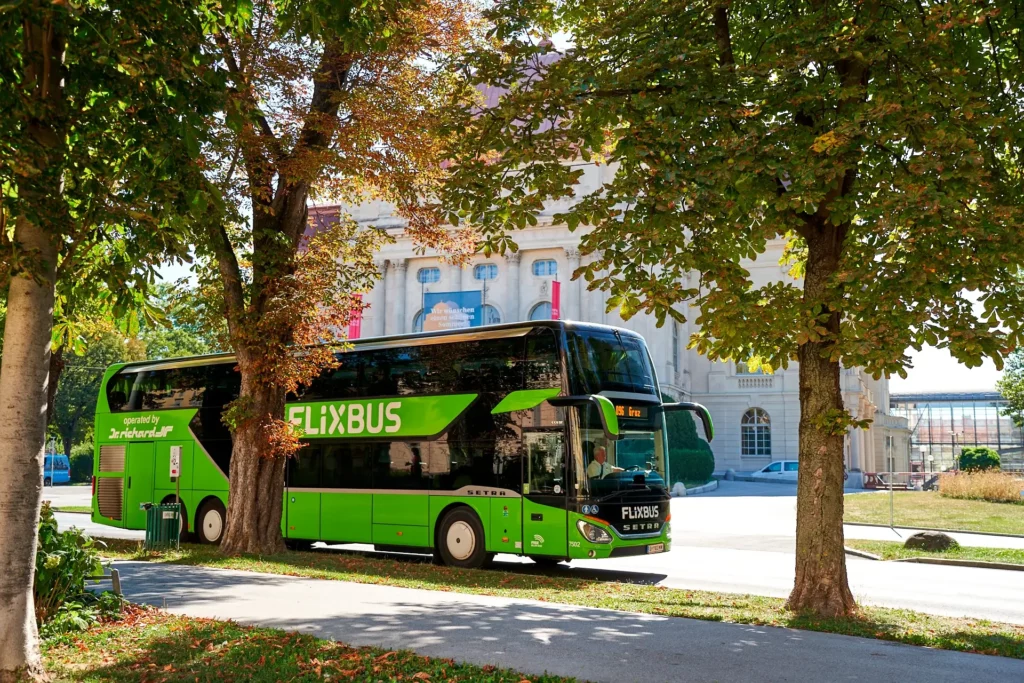 The green Flixbus between Vienna and Graz
The Dr. Richard Group is a mobility partner of the largest German long-distance bus provider, FlixBus. Since 2014, Dr. Richard has been operating the long-distance bus route 096 Vienna – Graz, connecting Austria's two largest cities. The X96 route additionally provides an attractive express connection from Graz to Vienna Airport. This route has also become an important fixture of public transport in Austria.
Green driving
Green also means implementing an economical driving style. Our drivers undergo regular special training for an ecological driving style, either as part of their safety training or separately, by professionally trained coaches. By adopting an ecological driving style, i.e., driving with foresight, driving in the lower speed range as well as constantly checking and adjusting settings like the air conditioning systems, CO2 emissions can often be reduced by up to 30%, for example on the regular inner-city bus routes. Over the years, an average reduction in CO2 emissions of around 9% has been achieved and maintained in this way. In concrete terms, this means that for the 15 vehicles deployed on the 77A, 79A and 79B routes in Vienna, for example, we reduce our CO2 emissions by around 108 tons a year.
We have our finger on the pulse with our transportation service.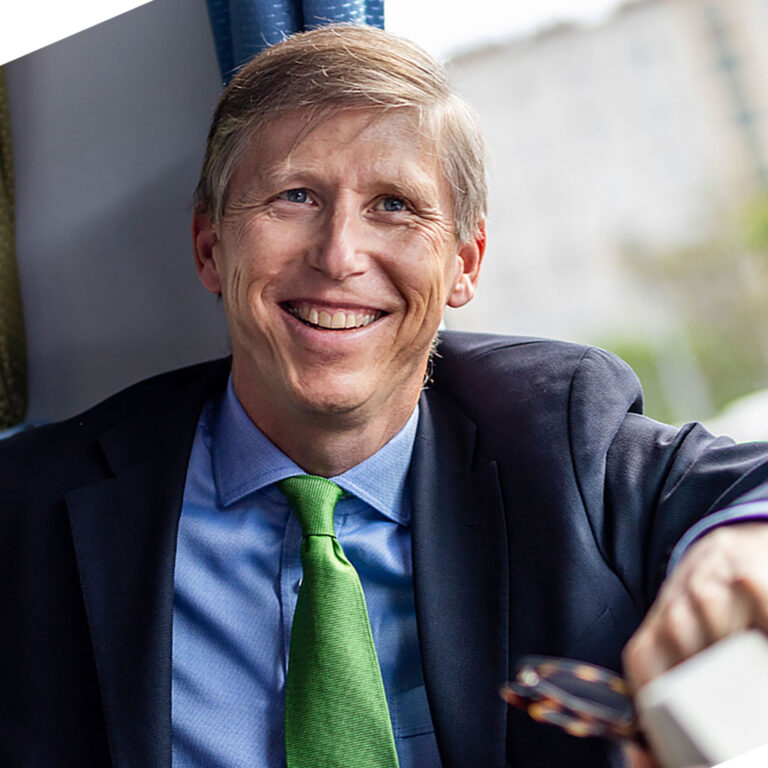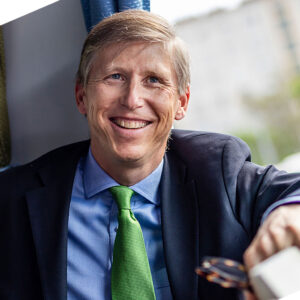 We have our finger on the pulse with our transportation service.
Dr. Ludwig Richard
Environmentally friendly touring coaches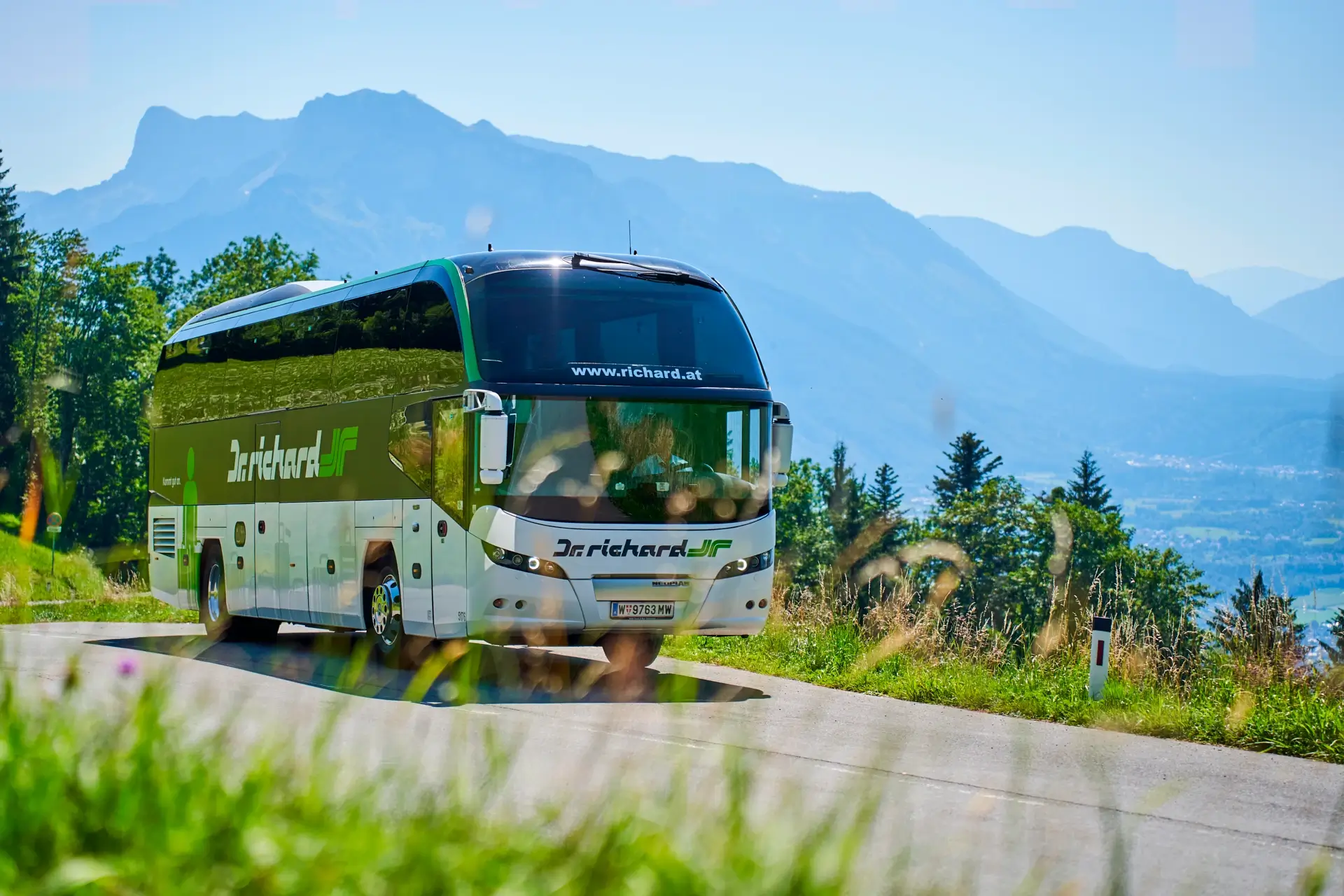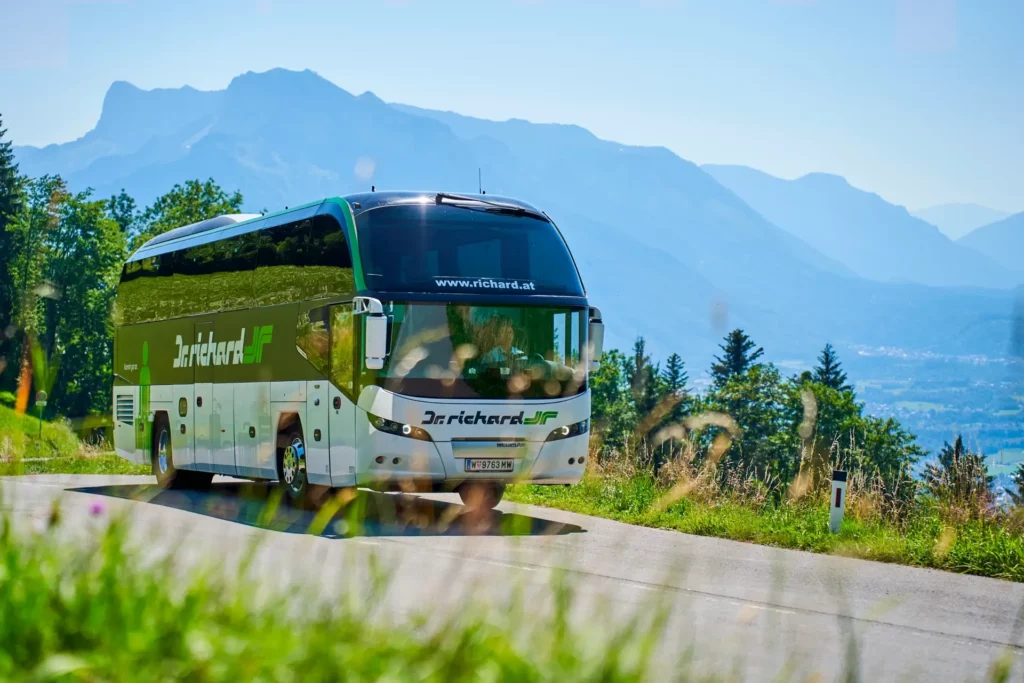 For many years, we have relied on low-emission coaches that are equipped exclusively with Euro 6 class engines. This is currently the most environmentally friendly emissions standard. In addition, we focus on reducing empty runs, a key sustainability factor in the touring coach sector. Through intelligent dispatching and planning for joint fleet management, for example between Vienna and Salzburg, we skillfully avoid empty runs and conserve resources.